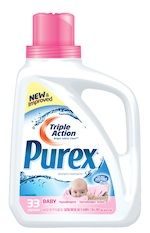 As a mother of a tween daughter and teenage son, I know how tough it is to keep their clothes clean. While I don't have a baby, I am acquainted with new mothers, and mothers to be. I decided to sample the
Purex Baby detergent
, and had learned that this product can benefit the entire household.
Do you have or know someone who has sensitive skin? The Purex Baby detergent is Hypoallergenic, and dermatologist tested. Powerful, yet gentle enough on skin. This is one of the reasons that I adore Purex. The company offers customers a variety of choices when it comes to your laundry care routine. Frequently improving products to meet consumer needs, and at budget friendly prices.
I remember two separate times that my laundry duties had caused my children to break out into hives. Normally, I can use just about any product and it doesn't cause any allergic reactions. You could probably imagine my surprise to find that two different products irritated my children's bodies. Come to find out, the irritants were caused by the type of fragrance and dye used in those products. I've never, not once had an allergy issue with any Purex products.
If you look in my laundry area, you will see that I usually have some type of Purex detergent available. A giddy feeling consumes me when I discover a new product variety is on the grocers shelf. The first thing I do is twist open the cap and inhale the fragrance. Laundry is one of my least favorite tasks, I desire a product that will make it a little more enjoyable.
Upon arrival, I did just that. I opened the bottle, looked at the color of the liquid (no color), and then gently put the bottle up to my nose. I've been trying to figure out the best way to explain the scent. The scent is a light, fresh, baby scent. Possibly a little baby powder? The next time you are in the grocery store head on over to the laundry detergent aisle and explore the Purex products. Locating the Purex Baby, and experiencing the scent yourself would be the best bet.
My first experiment with this product was undergarments and socks. Since these items are worn closest to your skin, I felt it would be the best choice. I gathered up all of the pieces and headed to the washing machine. By the way, I have a regular top loading washing machine. This product can also be used in 'he' machines. After placing the laundry in the washing machine, I poured a cap full of detergent (per instructions) onto the clothes.
When it was time to put the laundry in the dryer, I noticed that they had a very clean smell to them. I really enjoyed the aroma! After the garments dried, I brought them into the house. Now, I can't say that this product removed any stains because, I didn't notice the stains to begin with. I can tell you that my clothes did appear to be nicely cleaned. The light scent lingered for a few days after the garments were put away. I would definitely welcome this product into my household again.
Would you like a chance to win a free bottle of Purex Baby? Just visit the
Purex Oh, Baby!
, sweepstakes! They will be giving away $500 to 3 LUCKY winners, and 250 entrants will win a free bottle of detergent. Hurry! The sweepstakes ends soon.
Purex Baby Detergent Ingredients:
Water, Alcohol Ethoxy Sulfate (Cleaning Ingredient), Sodium Carbonate (Water Softener), Linear Alkylbenzene Sulfonate (Cleaning Ingredient), Sodium Chloride (Viscosity Control), Alcohol Ethoxylate (Cleaning Ingredient), Sodium Polyacrylate (Polymer), Fatty Acids (Foam Control), Disodium Diaminostilbene Disulfonic Acid (Brightener), Tetrasodium Edta (Chelator), Methylisothiazolinone (Preservative), Fragrance
Frequently Asked Questions: (The following has been borrowed from the Purex Baby Website to share with my readers. All questions and answers below are property of Purex and The Dial corportation, A Henkel comapny.
Does Purex Baby detergent work as well as regular Purex laundry detergents?
Yes. All Purex liquid detergent products provide excellent cleaning performance and stain removal. Purex Baby detergent is also formulated to be gentle on your baby's sensitive skin.
Where can I buy Purex laundry detergent?
You'll find Purex products and our other great laundry care brands at many retailers throughout North America. Find a retail store near you.
I used to buy Purex 2x Ultra Concentrate detergent. Is it still available?
Yes! We've rebranded all of our Purex 2x Ultra Concentrate detergents as Purex products and they now come in packaging with a great new look.
At what water temperature does liquid detergent work best?
Purex liquid detergents work great in all temperatures. But to keep your clothes from fading, and to consume less energy, always use water that is 70 degrees Fahrenheit or colder.
Do you have any tips for washing in hard water?
Believe it or not, more than 85% of homes in the U.S. have hard water, and clothes that are washed in hard water tend to look dingy and feel harsh. Try adding ½ cup of 20 Mule Team® Borax to your wash load. It will help soften water and prolong the life of your clothes.
Why are there different fill lines in the cap? Which one should I use?
A variety of Purex detergent products are specially formulated with added benefits, and may require a different amount of liquid per load than our regular Purex detergents. Always check the back label on the back of the package—you'll find the accurate cap fill levels there.
How much laundry is in a normal size load?
A normal size load is approximately 6 lbs of dry laundry.
Is Purex liquid detergent safe for septic tanks?
Yes, Purex liquid detergent is safe for your septic tank.
Any tips for getting the best results when doing laundry?
For best results, we recommend that you:
1. Check all fabric labels for special laundry care instructions.
2. Pre-treat any visible stains using Purex detergent or Zout® stain remover. Learn more about how to remove tough stains.
3. Start the washer using the temperature setting noted on fabric care labels.
4. Measure and add Purex detergent. For hard water, we also recommend adding ½ cup of 20 Mule Team® Borax.
5. Add laundry, washing similar colors together.
6. For extra softening and static control, consider adding Purex liquid fabric softener during the final rinse cycle. You can also add Purex fabric softener sheets to the dryer.
DISCLAIMER: I received a sample in exchange for this post. All opinions that I have expressed are my own and true.